Rio Jeno, Dick Lemaine, Roger Renaud - So Kitsch
(An Irresistible Cocktail of the Genuine Television and Radio Sounds from the 40's to the 70's)
Justement Music CD JUST 39
This is one of two further CDs from Justement Music I found referencing Roger Renaud. The first four tracks on this release I was able to match to Stellar 25cm/10" LP W. 924 "Dancing Selection Volume 4", this time successfully finding a link to the past.
On this disc, compositions are credited to Roger Renaud, Rio Jeno and Dick Lemaine. Available information from Astral, Miami and Stellar releases, along with Sacem information, shows that Rio Jeno is an alias of Roger Renaud with a lot of history. I can't find Dick Lemaine on other releases, so it may be a new alias for this release. Sacem information suggests the Dick Lemaine alias could even cover more than one composer.
Like Cheesy Beats, MYMA have commercially released this CD to buy as mp3 downloads from various sources. Search for "So Kitsch" by "Rio Jeno".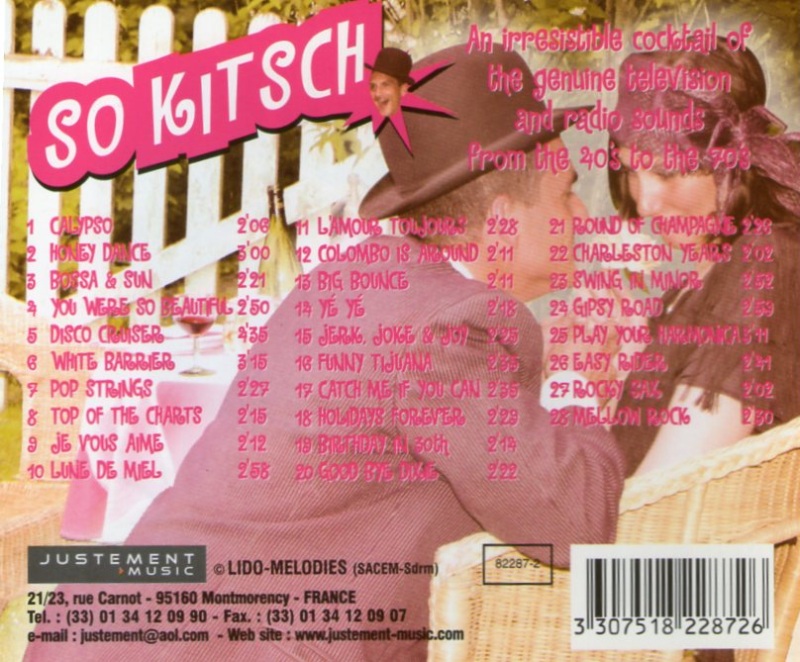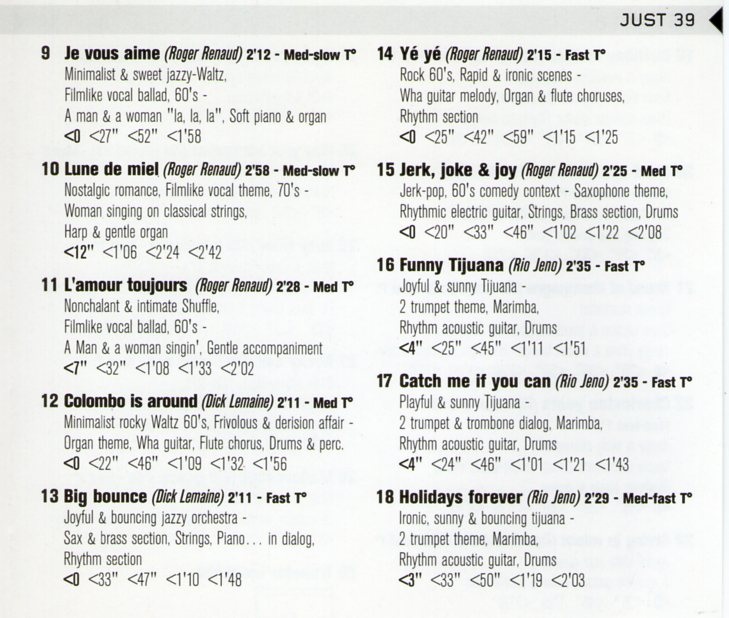 Page from booklet showing compositions by Dick Lemaine, Roger Renaud and Rio Jeno
Calypso - Rio Jeno
Honey Dance - Rio Jeno
Bossa & Sun - Rio Jeno
You Were So Beautiful - Rio Jeno
Disco Cruiser - Dick Lemaine
White Barrier - Dick Lemaine
Pop Strings - Dick Lemaine
Top Of The Charts - Dick Lemaine
Je Vous Aime - Roger Renaud
Lune De Miel - Roger Renaud
L'Amour Toujours - Roger Renaud
Colombo Is Around - Dick Lemaine
Big Bounce - Dick Lemaine
Yé Yé - Roger Renaud
Jerk, Joke & Joy - Roger Renaud
Funny Tijuana - Rio Jeno
Catch Me If You Can - Rio Jeno
Holidays Forever - Rio Jeno
Birthday In 30th - Dick Lemaine
Good Bye Dixie - Dick Lemaine
Round of Champagne - Dick Lemaine
Charleston Years - Dick Lemaine
Swing In Minor - Roger Renaud
Gipsy Road - Roger Renaud
Play Your Harmonica - Dick Lemaine
Easy Rider - Dick Lemaine
Rocky Sax - Dick Lemaine
Mellow Rock - Dick Lemaine