When researching the composer Roger Renaud, I found a collection of small labels all with similar music.
The Astral, Miami and Stellar discs have no publisher name or address, making the origin and use of these discs a mystery. The E.M.J. label and the Trianon release are helpful, strongly suggesting that these discs were produced by or for René Louis Julien or Jean-Claude Julien, possibly of Éditions Musicales Jilune.
The large number of Roger Renaud partitions at Bibliothèque nationale de France also suggest a connection to Técipress, and the MYMA/Justement CDs suggest a possible connection to the publisher Lido Mélodies.
The discs are marked BIEM and SACEM, and many of the compositions are listed in Sacem's works database, so someone has been managing their rights and may still be.
The Astral and Miami EPs (LD 2xx and E. 4xx) are the longest running series, each with about 40 discs. They both have themed releases by artists, and compilation series of about 12 discs, Musique Dans Le Vent on Astral and Cocktail Musical on Miami. Much of this music is found on the Stellar 25cm Dancing Selection discs.
Releases with low catalogue numbers in the Miami series are often labelled Eden. It is likely the label name was originally Eden and then soon changed to Miami. This copy of E. 451 Tropicana Boys n°1 has paper pasted over the Eden label name on the disc labels. Perhaps this paper said Miami. Click the below picture for an enlarged view: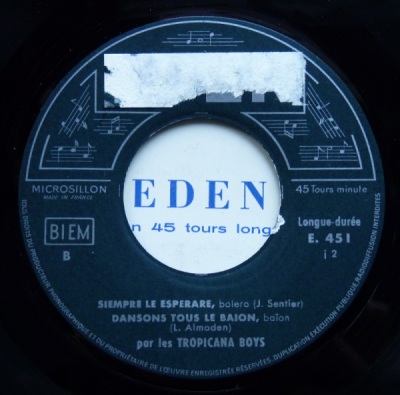 The Stellar 25cm / 10" discs include the following description on the reverse of the sleeve, possibly suggesting the discs were used for dance halls or classes:
All the tunes in this series, have been selected so as to allow their diffusion as well as for dancing as for a musical background.
I have entered information for the releases I have found in the following table. This is not complete and may never be. Entries with catalogue numbers only may not exist. I don't own all of these discs, nor do I have artist, composer or track name information for all of them. I hope to add information on releases I have to the discogs website.
| | | | | |
| --- | --- | --- | --- | --- |
| Format | Label | Cat | Titre | Orchestre |
| 7" SP | Astral | A. 101 | Miss Broadway / Miami Lovers | Miguel Novarro et son grande Orchestre |
| | | A. 102 | | |
| | | A. 103 | | |
| 7" SP | Astral | A. 104 | My Oregon / Going Up The River | Les Diables Noirs |
| | | A. 105 | | |
| | | A. 106 | | |
| 7" SP | Astral | A. 107 | Gold Valley / Craving For You | Les Diables Noirs |
| | | | | |
| | | LD 201 | | |
| 7" EP | Astral | LD 202 | Vous Fait Danser | Miguel Novarro |
| 7" EP | Astral | LD 203 | Musique De Danse | Luis Almaden et son grande Orchestre |
| | | LD 204 | | |
| 7" EP | Astral | LD 205 | Bongos Et Maracas | Tropicana Boys |
| | | LD 206 | | |
| | | LD 207 | | |
| 7" EP | Astral | LD 208 | Broadway Vous Appelle | Tropicana Boys et Jo Palmieri |
| | | LD 209 | | |
| 7" EP | Astral | LD 210 | Cap Sur Les Antilles | Tropicana Boys |
| | | LD 211 | | |
| 7" EP | Astral | LD 212 | Escale A La Plata | Luis Almaden et son grande Orchestre |
| 7" EP | Astral | LD 213 | On Danse A Bahia | Tropicana Boys et Jo Palmieri |
| 7" EP | Astral | LD 214 | Au Mexicana Club | Tropicana Boys |
| 7" EP | Astral | LD 215 | Reflets De Brooklyn | Salvador Parrota et Jo Palmieri |
| 7" EP | Astral | LD 216 | Revez En Dansant | Stanley Clark et ses Violons Charmeurs |
| 7" EP | Astral | LD 217 | Harmonies Dans Le Soir | Stanley Clark et ses Violons Charmeurs |
| 7" EP | Astral | LD 218 | Toros Et Matadors | Ricardo Fuentes et son Grand Orchestre |
| 7" EP | Astral | LD 219 | Twist Selection 62 | Les Diables Noirs |
| 7" EP | Astral | LD 220 | Black Party 63 | Les Diables Noirs |
| 7" EP | Astral | LD 221 | Escale A Magdalena | Luis Almaden et son grande Orchestre |
| 7" EP | Astral | LD 222 | Au Rythme Des Tumbas | Tropicana Boys |
| | | LD 223 | | |
| 7" EP | Astral | LD 224 | Danse Mer Et Soleil | Tropicana Boys |
| 7" EP | Astral | LD 225 | Broadway By Night | Jo Palmieri et son Orchestre |
| 7" EP | Astral | LD 226 | Muleta Et Banderillas | Ricardo Fuentes et son Grand Orchestre |
| 7" EP | Astral | LD 227 | Musique En Rose | Stanley Clark et ses Violons Charmeurs |
| 7" EP | Astral | LD 228 | Violons Au Crepuscule | Stanley Clark et ses Violons Charmeurs |
| 7" EP | Astral | LD 229 | Musique Dans Le Vent | Steve Jackson et son Orchestre |
| | | LD 230 | (M.D.L.V. n°2?) | |
| 7" EP | Astral | LD 231 | Musique Dans Le Vent n°3 | Steve Jackson et son Orchestre |
| 7" EP | Astral | LD 232 | Musique Dans Le Vent n°4 | Steve Jackson et son Orchestre |
| 7" EP | Astral | LD 233 | Musique Dans Le Vent n°5 | |
| 7" EP | Astral | LD 234 | Musique Dans Le Vent n°6 | Steve Jackson et son Orchestre |
| 7" EP | Astral | LD 235 | Musique Dans Le Vent n°7 | Steve Jackson et son Orchestre |
| 7" EP | Astral | LD 236 | Musique Dans Le Vent n°8 | Steve Jackson et son Orchestre |
| 7" EP | Astral | LD 237 | Musique Dans Le Vent n°9 | Stanley Clark et son Orchestre |
| | | LD 238 | (M.D.L.V. n°10?) | |
| 7" EP | Astral | LD 239 | Musique Dans Le Vent n°11 | Steve Jackson et son Orchestre |
| 7" EP | Astral | LD 240 | Musique Dans Le Vent n°12 | Jo Palmieri et son Orchestre |
| 7" EP | Astral | LD 241 | Musique Dans Le Vent n°13 | Beni Micotti et son Orchestre |
| 7" EP | Astral | LD 242 | Musique Dans Le Vent n°14 | Steve Jackson et son Orchestre |
| | | | | |
| | | E. 301 | | |
| 7" SP | Eden | E. 302 | (sans pochette – Frisco Rock / Elle A Souri) | Miguel Novarro et son grande Orchestre |
| 7" SP | Miami | E. 303 | (sans pochette – Serenata Flamenca / Los Besitos De Maria) | Stanley Clark |
| | | | | |
| 7" EP | Eden | E. 451 | Tropicana Boys n°1 | Tropicana Boys |
| 7" EP | Eden | E. 452 | Tropicana Boys n°2 | Tropicana Boys |
| 7" EP | Eden | E. 453 | Tropicana Boys n°3 | Tropicana Boys |
| 7" EP | Miami | E. 454 | Salvador Parrotta n°1 | Salvador Parrota et son Orchestre |
| 7" EP | Miami | E. 455 | Jo Palmieri n°1 | Jo Palmieri et son Orchestre |
| 7" EP | Miami | E. 456 | Tropicana Boys n°4 | Tropicana Boys |
| 7" EP | Miami | E. 457 | Luis Almaden n°1 | |
| 7" EP | Miami | E. 458 | Tropicana Boys n°5 | Tropicana Boys |
| 7" EP | Miami | E. 459 | Jo Palmieri n°2 | Jo Palmieri et son Orchestre |
| 7" EP | Miami | E. 460 | Stanley Clark et ses Violons Charmeurs n°1 | Stanley Clark et ses Violons Charmeurs |
| 7" EP | Miami | E. 461 | Luis Almaden n°2 | Luis Almaden et son grande Orchestre |
| | | E. 462 | (Diables Noirs ?) | |
| 7" EP | Miami | E. 463 | Gold Valley / Craving For You / Going Up The River / My Oregon | Les Diables Noirs |
| | | E. 464 | Tropicana Boys n°6 | |
| 7" EP | Miami | E. 465 | Jo Palmieri n°3 | Jo Palmieri et son Orchestre |
| | | E. 466 | (Stanley Clark et ses violons charmeurs n°2 ?) | |
| 7" EP | Miami | E. 467 | Jo Palmieri n°4 | Jo Palmieri et son Orchestre |
| 7" EP | Miami | E. 468 | Luis Almaden n°3 | Luis Almaden et son grande Orchestre |
| | | E. 469 | (Cocktail Musical n°1 ?) | |
| | | E. 470 | (Cocktail Musical n°2 ?) | |
| 7" EP | Miami | E. 471 | Cocktail Musical n°3 | Steve Jackson et son Orchestre |
| 7" EP | Miami | E. 472 | Cocktail Musical n°4 | Steve Jackson et son Orchestre |
| 7" EP | Miami | E. 473 | Cocktail Musical n°5 | Steve Jackson et son Orchestre |
| 7" EP | Miami | E. 474 | Stanley Clark et ses Violons Charmeurs n°3 | Stanley Clark et ses Violons Charmeurs |
| 7" EP | Miami | E. 475 | Cocktail Musical n°6 | Steve Jackson et son Orchestre |
| 7" EP | Miami | E. 476 | Cocktail Musical n°7 | Steve Jackson et son Orchestre |
| | | E. 477 | (Cocktail Musical n°8 ?) | |
| | | E. 478 | (Cocktail Musical n°9 ?) | |
| 7" EP | Miami | E. 479 | Especial Tijuana | Baja California Orquesta |
| 7" EP | Miami | E. 480 | Cocktail Musical n°10 | Steve Jackson et son Orchestre |
| 7" EP | Miami | E. 481 | Stanley Clark n°4 | Stanley Clark et son Orchestre |
| 7" EP | Miami | E. 482 | Stanley Clark n°5 | Stanley Clark et son Orchestre |
| | | E. 483 | | |
| 7" EP | Miami | E. 484 | Hot Sex | The Red Demon's Group |
| 7" EP | Miami | E. 485 | Especial Tijuana n°2 | Baja California Orquesta |
| 7" EP | Miami | E. 486 | Cocktail Musical n°11 | Steve Jackson et son Orchestre |
| 7" EP | Miami | E. 487 | Stanley Clark n°6 | Stanley Clark et son Orchestre |
| 7" EP | Miami | E. 488 | Stanley Clark n°7 | Stanley Clark et son Orchestre |
| 7" EP | Miami | E. 489 | Spécial Piano-Rythme n°1 | Beni Micotti et son Quartet |
| 7" EP | Miami | E. 490 | Cocktail Musical n°12 | Steve Jackson et son Orchestre |
| 7" EP | Miami | E. 491 | Spécial Piano-Rythme n°2 | Steve Jackson et son Orchestre |
| 7" EP | Miami | E. 492 | Cocktail Musical n°13 | Steve Jackson et son Orchestre |
| | | | | |
| 25cm / 10" | E.M.J. | S. 501 | De Paris A Rio | Various |
| 25cm / 10" | E.M.J. | S. 502 | Tout Paris Danse | José Sicco, son accordéon et ses rythmes |
| | | S. 503 | | |
| 25cm / 10" | E.M.J. | S. 504 | Si Vous Amiez Danser | Various |
| 25cm / 10" | E.M.J. | S. 505 | Nuit Dansante A Paris | Various |
| 25cm / 10" | E.M.J. | S. 506 | Thé Dansant Sur France | Various |
| 25cm / 10" | E.M.J. | S. 507 | Feux De Joie Sur Paris | José Sicco, son accordéon et ses rythmes |
| 25cm / 10" | E.M.J. | S. 508 | Voyage En Musique | Various |
| | | | | |
| 25cm / 10" | Eden | ES 601 | Croisière En Musique | Various |
| 25cm / 10" | Eden | ES 602 | Paris Vous Invite A Danser | José Sicco |
| | | ES 603 | | |
| | | ES 604 | | |
| | | ES 605 | | |
| 25cm / 10" | Miami | ES 606 | C'est Paris Qui Danse | José Sicco |
| 25cm / 10" | Miami | E.S. 607 | Fantaisie Cocktail | Various |
| 25cm / 10" | Miami | ES 608 | Bastille Champs Elysees | José Sicco |
| 25cm / 10" | Miami | E.S. 609 | Musique En Vacances | Various |
| 25cm / 10" | Miami | E.S. 610 | Montmatre Montparnasse | José Sicco et son Orchestre |
| 25cm / 10" | Miami | E.S. 611 | Pigalle Saint Germain Des Pres | José Sicco et son Orchestre |
| | | | | |
| 25cm / 10" | Astral | H.S. 751 | Mélodies Pour Deux Coeurs | Stanley Clark et ses Violons Charmeurs |
| 25cm / 10" | Astral | H.S. 752 | Violons Pour Deux | Stanley Clark et ses Violons Charmeurs |
| 25cm / 10" | Astral | H.S. 753 | Violons En Croisiere | Stanley Clark et ses Violons Charmeurs |
| 25cm / 10" | Astral | H.S. 754 | Violons En Croisiere n°2 | Stanley Clark et ses Violons Charmeurs |
| 25cm / 10" | Astral | H.S. 755 | Violons En Croisiere n°3 | Stanley Clark et ses Violons Charmeurs |
| | | | | |
| | | N.S. 801 | | |
| 7" SP | Miami | N.S. 802 | Black Party 63 | Les Diables Noirs |
| | | | | |
| 25cm / 10" | Stellar | W. 921 | Dancing Selection | Various |
| | | W. 922 | | |
| | | W. 923 | | |
| 25cm / 10" | Stellar | W. 924 | Dancing Selection Volume 4 | Steve Jackson et son Orchestre |
| 25cm / 10" | Stellar | W. 925 | Dancing Selection Volume 5 | Steve Jackson et son Orchestre |
| 25cm / 10" | Stellar | W. 926 | Dancing Selection Volume 6 | Steve Jackson et son Orchestre |
| 25cm / 10" | Stellar | W. 927 | Dancing Selection Volume 7 | Steve Jackson et son Orchestre |
| 25cm / 10" | Stellar | W. 928 | Dancing Selection Volume 8 | (Inconnu) |
| 25cm / 10" | Stellar | W. 929 | Dancing Selection Volume 9 | Steve Jackson et son Orchestre |
| 25cm / 10" | Stellar | W. 930 | Dancing Selection Volume 10 | Steve Jackson, Luis Almaden et Baja-California Orquesta |
| 25cm / 10" | Stellar | W. 931 | Dancing Selection Volume 11 | (Inconnu) |
| | | W. 932 | | |
| 25cm / 10" | Stellar | W. 933 | Dancing Selection Volume 13 | Baja-California Orquesta, The Red Demon's Group et Steve Jackson |
| 25cm / 10" | Stellar | W. 934 | Dancing Selection Volume 14 | Beni Micotti et son Orchestre |